Natual Fertility - Comprehensive
This is a great package for those serious about making a healthy baby.
Get ready for your own sweet bundle of joy!
Are you ready to have a baby?  Not only do you want to get pregnant, but you want to have the smartest, healthiest and most beautiful baby possible!
This package is going to give you a thorough work up on all systems of your body for both mom and dad – both are essential to beautiful babies!  We'll start with a comprehensive work through of infertility and miscarriage factors.  
We will do comprehensive blood work with additional fertility markers on both parents to give direction to diet and supplementation to support the many systems of the body.  We'll work on healing the gut and eradicating any pathogens – remember that sweet baby is going to get their gut bacteria directly from you when they are born.   Additionally, we will look at mom and dad's sex and adrenal hormones.  This is crucial to addressing any hormone imbalances that may be impeding pregnancy or causing miscarriages.  Lastly, we'll go over dad's semen analysis (done at home) to make sure his swimmers are strong and ready.
Along with these tools, as part of this package, you will get our fertility diet and preconception detoxification recommendations personalized to you.  It is important to get the toxins out of the body before the baby is conceived for the healthiest pregnancy and birth possible for both baby and mom!  This package also includes two 50 minute private consults to review test results/recommendations and answer any questions (more available if desired).
By working to optimize the function of the body overall in both mom and dad, not only is conception optimized but the actual intelligence, beauty and health of the baby are improved!
Start your baby and your parenthood journey off on the right food by being in the healthiest state possible!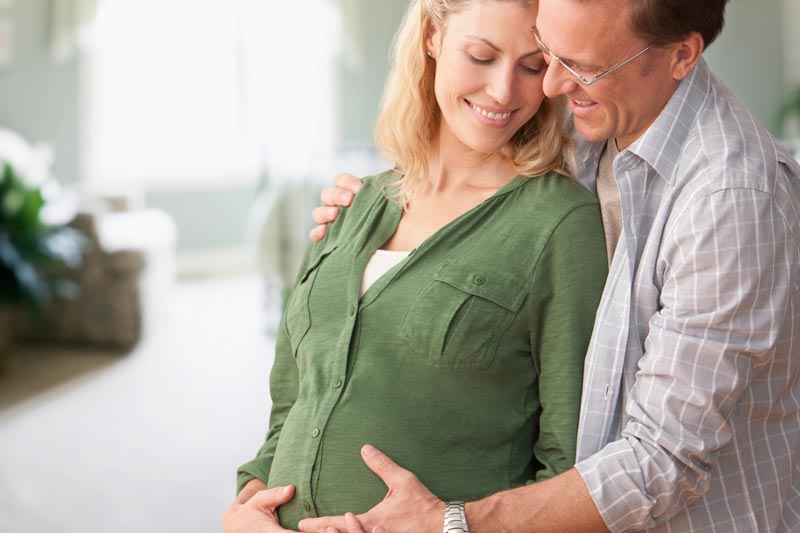 Analysis of both of your history, symptoms and food journals
Comprehensive blood panel with additional fertility markers for both mom and dad
Fertility diet
Gut healing and eradication protocol 
Preconception detoxification recommendations
Interpretation of all test results
Diet, lifestyle choices and supplementation recommendations based on all the tests in conjunction with each other
3– 50 minute private consultations
What comes with the tests?
By buying this test through Designed for Health, you also a customized review and analysis of your test results!  
Our functional nutritional therapists will review you and your partner's health history, food journals, symptom burden graph and test results.  Based on seeing the big picture of who you both are as well as the details of these specific tests, we will create a written interpretation and video explanation of what all your test results mean so that you both understand how this fits into your overall health pictures and what is going on with your bodies.  Additionally, we will send you a set of our recommendations for each of you that will include fertility dietary suggestions, lifestyle choice modifications, detox protocols and strategic supplementation to maximize your healthy conception.  If there are any other suggestions we have for further testing or things to look into for your overall health, we'll include that as well.  
Our goal is to empower you with knowledge of how your body is operating and how to improve it naturally!
We also recommend checking out information in the Designed for Health membership courses to give you further information and resources as well as an opportunity to post questions on the Q & A board.  If you would like to discuss your test results further, you are more than welcome to also book a private consultation.  
Get started with the Natural Fertility – Comprehensive package.
I was so grateful to find Katrina Foe! It was very nice to work with someone who saw me as a person with individual and specific needs, rather than just a line on a list to check off. Katrina took the time to hear the whole picture and put together a protocol carefully put together just for me. She was always available to answer my many questions! I was excited to see just how much improvement we made, even eradicating an issue that I had been chipping away at for many years. I highly recommend Katrina for your medical needs!
Katrina Foe is God's gift to natural medicine. As I have worked with her I have seen how she truly cares about me as her patient and friend. I have health issues that are fickle and hard to tease out. Some doctors would have given up by now or just given me meds to make the symptoms go away, but not Katrina. She has a determination to see me healed so she has stuck with me in searching for the root of my issues. This is the first time in my life I have ever made progress with my health, as well as issues I did not even realize were related to my gut and diet! My E-coli has been completely eradicated and my stomach cancer threat completely avoided! I can't recommended trusting her with your health needs highly enough!
I really enjoyed working with Katrina and felt very comfortable talking about my issues in an easy relaxed environment. I feel like I got significant relief from my digestive symptoms by taking the supplements Katrina recommended. I also experienced healing in my foot from plantar fasciitis using the many techniques Katrina gave me. Overall I was happy with my experience and outcome and wouldn't hesitate to recommend Katrina to a friend.
Here are the instructions for the different tests in the Natural Fertility – Comprehensive package.  It is important to read and follow these precisely in order to ensure accurate results.